Contact your local Account Manager
If you have any questions, need any assistance or require any tailored training sessions please feel free to reach out to your local Pyronix Account Manager Jim McAuley.
Jim McAuley: Account Manager – Ireland
I have worked in the security industry for over 22 years, starting as an Apprentice with an installation company, quickly working my way up to Senior Engineer, before being promoted to Technical Sales Engineer. I have been with Pyronix for over 3 years now supporting the installers and integrators in Ireland and Northern Ireland.
Given my experience working within the installation market, I understand the challenges faced when looking to evaluate new product portfolios. With Pyronix, you can be assured that I will be on hand personally to offer face to face and site training to new companies, making sure you are able to take advantage of the great product range that Pyronix has to offer and how it can transform your business models through recurring revenue streams. 
I really enjoy working with existing & new companies in Ireland and the best part is getting to know so many nice people.
About Us
Founded in 1986, Pyronix is a market-leading designer and manufacturer of innovative alarm products and technologies that provide the global professional security industry with versatile, effective and trusted solutions.
Part of the global Hikvision Group of companies, Pyronix fuses over 30 years of proven intrusion expertise with the world's largest video surveillance products supplier; introducing cutting-edge video monitoring capabilities into the security alarm portfolio.
Focused on cloud-based security platforms, we advance interconnected intrusion and video systems to deliver total professional solutions that safeguard people, property and assets – whilst generating extensive business development opportunities and recurring revenue for installers and integrators.
Begin your partnership with Pyronix. For us, the product is just the start.
PyronixCloud and HomeControl2.0
The PyronixCloud provides you a recurring revenue platform that is completely installer controlled. We don't get involved in your relationships with your end user customers. This allows you to build your own recurring revenue business model your way.
The new HomeControl2.0 app connects the user to their system via the Cloud, enabling control of the security system over secure IP communications. It brings biometric login, geofencing functionality and more to a brand new platform of app which is designed to develop and evolve with your business and user demands.
Wireless Security
Enforcer V10
Our Enforcer wireless security range is the Security Excellence Awards Innovation of the Year and the PSI Premier Awards winner.
The Enforcer is a two-way wireless control panel that uses wireless devices manufactured by Pyronix.
Two-way wireless technology is an essential part of the system and is specifically designed to deliver high security protection, while being safe and reliable, which in turn provides major advantages to the installer.
Each device on the Enforcer is a receiver and a transmitter, which provides a status reading at both the control panel and the wireless device. Additionally, when installing a wireless detector, LEDs on the device show whether the signal strength of the location is acceptable, which drastically cuts the time of the installation.
Boasting a continuously growing range of accessories, that includes: PIRs, smoke sensors, carbon monoxide sensors, wireless sounders, water leak sensors, and door contacts, the Enforcer can protect any premise easily and reliably.
Furthermore, as the Enforcer is a wireless solution, installation flexibility is increased and installation time is greatly reduced, making it the perfect security solution where cabling is impractical, or in listed buildings where wiring is impossible.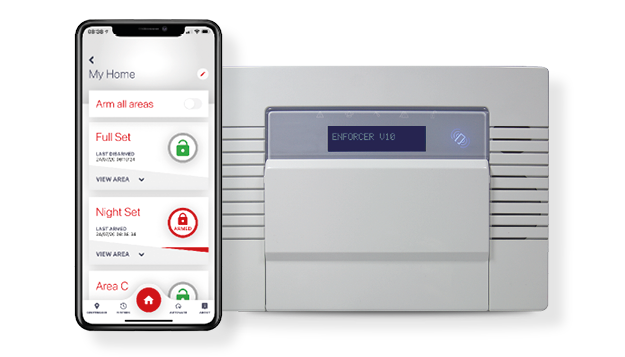 Hybrid Security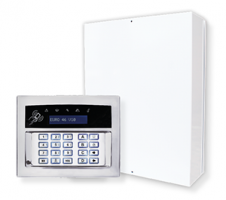 Euro 46 V10
The Euro 46 V10 brings on-the-go HomeControl2.0 App capability and hybrid security together.
The ideal replacement for an existing control panel, or if the end user wants a more traditional wired system, the Euro 46 V10 delivers all the great features of the Euro 46, with the addition of the PyronixCloud and HomeControl2.0 App infrastructure.
LightCamera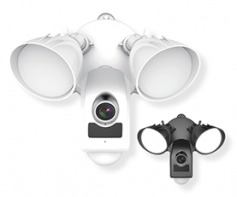 The LightCamera offers another layer of perimeter protection to properties, with a range of features designed to meet evolving end user requirements whilst also ensuring installers can remain at the cutting edge of developments to provide addition upsell opportunities.
With powerful Full-HD performance, dual ultra-bright lights, two-way talk, night vision, built-in siren and more; the LightCamera also features active defence capabilities and can be fully customisable with detection areas, alarm response and motion sensitivity, to avoid false alarms.
Paired with ProControl+ and our XDL12TT-WE, can also provide advanced video verification capabilities right to the users smart device via our always-connected app.
Growth Acceleration with Pyronix
Our recently launched GAP programme is designed with time-pressured installers and system integrator in mind, and provides easy access to free support services that will help your business to thrive.
Focused on Revenue, Knowledge and Brand – whether it's profitable new Cloud services, specialist 'how to' training or simply making you stand out from the competition, GAP has what you need for business success.
Sign up to GAP now and grow your business with Pyronix.