Stellar Certification Services Ltd.
About Us
Stellar Certification Services Ltd. is an Irish registered company, specialising in the security industry, dedicated to providing effective and cost efficient compliance certification. We recognise at Stellar that we have a unique common purpose with all of our clients. Clients wish to secure independent certification which furthers their business wants and needs, at a price which reflects current market reality and is underpinned by integrity, impartiality and reliability.
Stellar pledges to deliver on all three and undertook a rigorous and objective accreditation process with the Irish National Accreditation Board (INAB) which resulted in Stellar being awarded certification to IS EN 45011:1998 (ISO/IEC Guide 65:1996) "General Requirements for Bodies Operating Product Certification Systems".
We provide clients with an end to end package, from initial assessment to certification, along with on-going audits of your system. We satisfy a wide range of client needs, typically arranging certification in the following BS, EN, ISO and PSA standards:
Private Security Authority (PSA) Suite of Standards:
PSA 28: 2013 (Door Supervision & Security Guarding)
PSA 31: 2014 (Phase 1 Licensing, Door Supervision & Security Guarding)
PSA 39: 2014 (Licensing Requirements – Event Security Door Supervision & Security Guarding Contractors)
EN 50131 (Alarm Installation-Intruder Alarm & Hold Up Systems)
I.S. 228 (Alarm Receiving Centre)
S.I. 144: 2012 (Access Control) • PSA 2006_12 (CCTV)
S.R. 25 (Alarm Receiving Centre- Alarm handling)
S.R. 40 (Electronic Security Service-Intruder alarm, Access Control, and CCTV Systems)
S.R. 41 (Alarm Receiving Centre-Monitoring services)
I.S. 3218: 2013 (Fire Alarm Certification)
International Standards (ISO):
ISO 9001 – 2008 (Quality Assurance)
ISO 14001 – 2004 (Environmental Management system)
OHSAS 18001 – 2007 (Health and Safety Management System)
ISO 27001 – 2013 (Information Security Assurance).
Other Standards: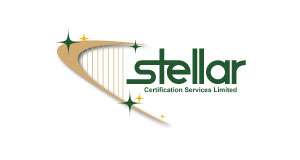 Stellar Certification Services Ltd.