Premium
Directory Listings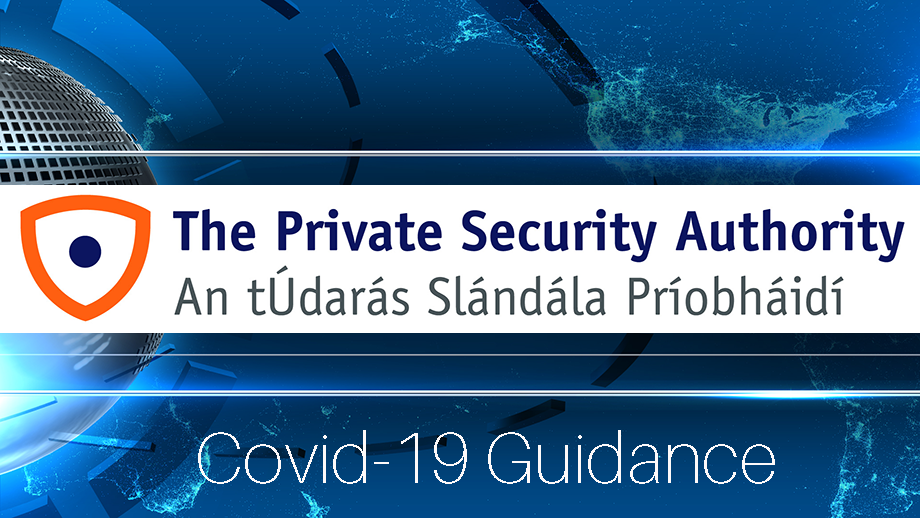 PSA Guidance on Government Roadmap to Reopen Society and Business
May 15, 2020
The PSA has published a Guidance Note for security contractors on the Government's Roadmap for Reopening Society and Business. The Guidance Note details where the different elements of the security industry fit within the Government's Roadmap
Dear Licence Holder
This guidance supersedes the guidance notice which issued on the 28th March 2020. The purpose of this notice is to provide guidance to PSA licensed contractors and their employees on the Government's Roadmap for reopening society and business. Contractors should also take note of the Government's Return to Work Safely Protocol, a copy of which can be found here.
The Roadmap is guided by a number of over-riding principles. That is, an approach which is:-
· Safe – informed and guided by a public health assessment of risk
· Rational – includes consideration of the social and economic benefits and impacts of any modifications of restrictions and their feasibility
· Evidence-informed – uses all of the data and research available to us to guide thinking
· Fair – Ethical and respects human dignity, autonomy and supports equality
· Open and transparent – decisions are clear, well communicated and subject to the necessary checks and balances
· Whole of Society – based on the concept of solidarity and supporting cohesion as we exit over time
The Roadmap outlines five phases and the triggers which will allow us move from one phase to another.
The phases are as follows.
Phase 1 – 18th of May
Phase 2 – 8th of June
Phase 3 – 29th of June
Phase 4 – 10th of July
Phase 5 – 10th of August
It is important to remember that moving from one phase to the next will only be possible if certain public heath barometers are met. You should consult the Government's Roadmap for information on the transition from one phase to the next.
Through all phases and in all instances contractors should ensure that they and their employee maintain social distancing between customers and employees, thereby limiting the transmission rate and protecting the capacity of the health system to cope with any increase in disease. Every effort should be made to limit person to person contact and the time spent in contact.
Situations where employees move from one location to another should be viewed as high risk situations. Where such situations arise, cleaning and hygiene facilities should be in place for employees and equipment before entering a new location. Contractors and their employees will now be operating in a new environment. With this in mind contractors should remember their statutory obligations under the standards prescribed for PSA licensing. Contractors should consider the following.
1. Has a risk assessment being carried out on the activities of the contractor and employees since the advent of COVID-19 in Ireland?
2. Has the contractor identified and delivered appropriate training needs for employees who may have to deal with COVID-19 issues?
3. Are there clear lines of communication for employees and customers clarifying the procedures, processes and policies in relation to the provision of private security services by contractors during these exceptional circumstances?
4. Has information training being provided to employees on the use of personal protection equipment (PPE) and medical equipment where relevant (e.g. thermometers, disposable gloves, masks, disinfectants)? 5. If there is a disruption to business is there a contingency plan in place so that any impact would be minimal?
In the weeks and months ahead you should continue to pay attention to the latest public health guidance and follow any instructions issued.
The PSA will issue further information if there are any changes to this guidance. We will not respond to individual requests for clarification.
If further clarification is required this will be done by another guidance notice to all licence holders.

Regards Paul

Paul Scallan, Chief Executive PSA