Premium
Directory Listings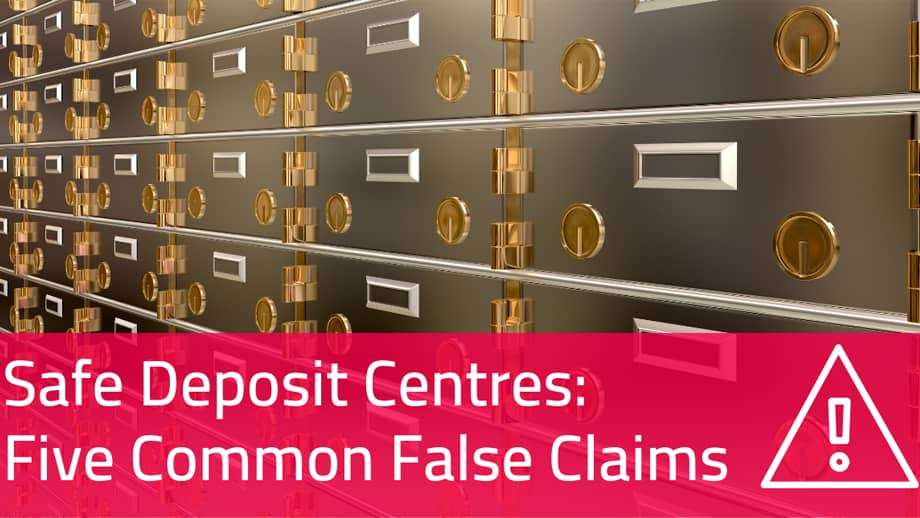 Safe Deposit Centres – Five False Claims
December 12, 2018
Over the last twelve months a great many derogatory claims regarding the safe industry, that are either misleading or completely false, have been publicised by prominent safe deposit businesses. Additionally, completely undocumented claims by these businesses to European standards of fire protection, flood protection, burglary resistance and EMP resistance have been widely circulated in the international press.
The following five claims, which are the ones which seem to have been most repeated, have been made by various individuals who are frequently described in the press as safe deposit box "experts".
I hope to explain why these statements should give some serious pause for thought if you ever consider using a safe deposit box operated by a private company and why the press should think about fact checking before promoting such blatantly false claims and non-existent expertise.
False Claim no 1. – "A Safe Deposit Box Is More Secure Than A Safe" 
Truth: No safe deposit box has any European certified resistance to burglary. The only protection offered by a safe deposit box is usually the strong room that should surround it. As certified safes are tested to the same EN1143-1 standard as certified strong rooms, why would a certified strong room be more secure than an equivalent certified safe?
If you consider a strong room will have apertures for air conditioning and cabling that are not present on a certified safe, I would argue that there is good reason a properly fitted certified safe is likely to be more secure against physical attack than an equivalent strong room. That of course is presuming the strong room or "vault" in which the deposit box is housed is in fact properly certified at all. Something definitely worth fact checking.
False Claim no 2. – "A Safe Deposit Box Offers Better Protection From Fire"
Truth: No safe deposit box has any certified fire resistance whatsoever. By contrast, safes that are certified for fire resistance would on average have a 60 minutes certified fire resistance, testing for which is carried out in Europe under standard EN15659. Safes are also available with testing for paper or data for 120 minutes fire resistance under European standard EN1047-1 which includes a drop test of nine meters onto a gravel floor to simulate the impact of structural supports.
False Claim no 3. – "Home Safes Are Notoriously Easy To 'Crack' Open." 
Truth: All videos I have reviewed which have been made to try and discredit safes in general have been attacks on non-certified safes or fire cabinets with a very thin outer metal shell that has more in common with the average deposit box than a certified safe.
Actual certified safes, and indeed certified strong rooms, are both tested under the EN1143-1 standard and will therefore have equal resistance on a grade by grade basis. Testers have access to over two hundred tools and tests are witnessed by an independent European body with ISO/IEC 17065 accreditation to carry out certification.
False Claim no 4. – "A Safe Deposit Box Is Better Value Than A Home Safe"
 (This claim specified a grade 1 safe) 
Truth: One of the most highly certified grade 1 safes on the Irish market currently retails at €560.00. An entry level safe deposit box starts at €199 per year and this is for an average internal capacity of just 3.95 litres compared to 14.49 litres for the very smallest grade 1 certified safe available. This is before you consider the expense of travelling to a highly publicised location to access your tiny deposit box. I fail to see the "value" referred to?
False Claim no 5. – "Gardaí Advise Homeowners Against A Home Safe" 
Truth: An Garda Síochána advise against keeping large sums of cash and valuables on any premises and go on to state that, if it is necessary to hold cash and valuables, to ensure that they are stored in a properly certified safe with a certified digital lock. How many safe deposit centres can produce valid European certification documents for "secure storage" and how many use mechanical locking systems such as key or mechanical combination on their "vault" doors that are easily bypassed?
For the 2018 Garda Síochána recommendations on secure storage please see: https://certifiedsafesireland.ie/pdf/Garda-Secure-Safes-And-Standards.pdf
For videos on mechanical locks being bypassed please see: https://certifiedsafesireland.ie/videos/why-we-dont-recommend-keys-for-safes/
In Conclusion:
Having worked with a number of high value asset protection facilities in the Ireland, Isle of Man, U.K., Switzerland, Germany and Austria, I can safely say that many safe deposit businesses offering a service to the public have no certification for fire, burglary or EMP whatsoever. The majority having an easily bypassed mechanically locked strong room door, which is kept open during business hours to facilitate frequent entry by their clients.
Another fact that must be considered is that many safe deposit centres have now made themselves prime targets for robbery by advertising that they are holding increasing amounts of Gold Bullion. This kind of amateurish publicity seeking is a great disservice to clients of such businesses and speaks volumes about the professionalism of their operators and their attitude to risk and confidentiality.
If you intend investing in a safe deposit facility or a home or business safe my advice is to inspect what you expect. Make sure that the safe or strong room you use is properly certified for the purpose claimed.
There are a wide range of "certificates" or "approvals" available from official sounding bodies but there are only a handful of bodies who have the required European accreditation to ISO/IEC 17065:2012 for certifying safes and strong rooms in Europe.
Currently the most prominent European accredited certification houses are ECB-S, VdS, CNPP & SBSC.
The main standards to watch out for are:
EN1143-1 – Secure storage against burglary, which applies to safes and strong rooms
EN1143-2 – Deposit safes tested against burglary
EN15659 – Fire protection for paper
EN1047-1 – Data protection with drop test
Always ask for a copy of the certification documentation for any product that makes a claim to offer protection against fire or burglary. There is absolutely no excuse not to supply one as certificates are freely available from all accredited European certification bodies.
If you have any doubts or questions, feel free to contact Certified Safes Ireland™ during normal business hours on 01-7076011 or at info@certifiedsafesireland.ie
Or visit Certified Safes Ireland™ at www.certifiedsafesireland.ie