Premium
Directory Listings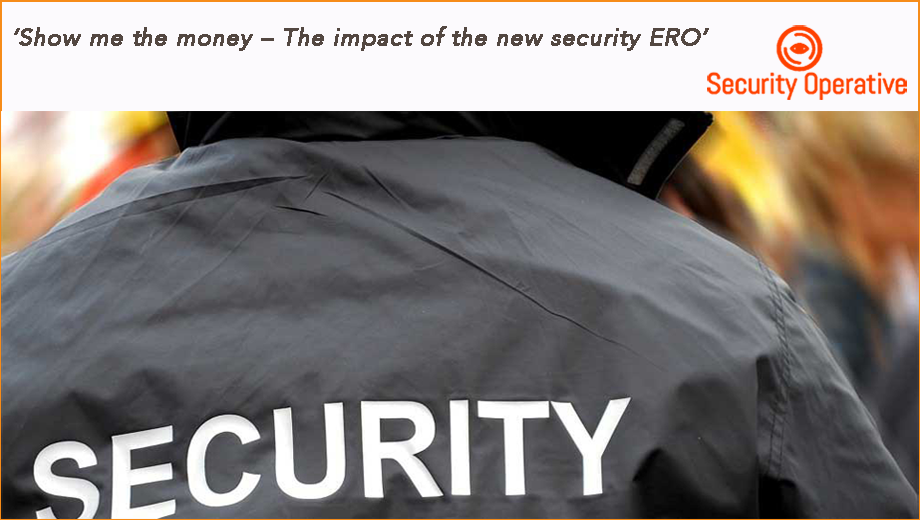 Show me the money – The impact of the new security ERO
June 02, 2017
On June 1st 2017 the Workplace Relations Commission brought into legislation the 2017 Security Industry Employment Regulation Order (ERO). While this ERO contains much of the same requirements as the existing 2015 version there are some talking points from both an employee and an employer perspective. In this article, I want to look at this new ERO from both sides. For security operatives, there are additional pay and benefits contained in the ERO and from an employer perspective there are additional cost and risk implications. Here I want to discuss some important questions for both sides such as;
1. Does paying somebody more money mean an increase in that persons performance?
2. Who's responsibility is it to show value for money?
Whats in the ERO?
WAGES AND OVERTIME
The most prominent change is the increase in basic pay from €10.75 to €11.05 for suitably trained and licenced security operatives. This is a 19% increase on the national minimum wage. This rate will increase again to €11.35 from 1st June 2018 and again to on 1st June 2019 to €11.65. While this may not seem a lot it is still an increase and I'm sure it will be welcomed by employees nationwide.
The overtime rate of time and a half remains unchanged after 48 working hours per week.
SICK PAY SCHEME
A mandatory  non-contributory sick pay scheme for employers as follows:
No payment will be made for the first 3 days of any absence.
The employer must be contacted at least 1 hour before the rostered commencement time on the first day of absence.
Benefit will only be payable where a medical certificate, signed by a medical practitioner and specifying the nature of the illness, is submitted on the fourth day of absence. Medical certificates must be submitted on a weekly basis thereafter.
The Sick Pay scheme will apply on a calendar year basis, either from 1st January to 31st December or in line with the holiday year as it applies in each employer.
The Scheme will apply to full-time workers based on a 39-hour week, and part-time workers on a pro rata basis.
Any worker found to be abusing the Sick Pay Scheme will be subject to disciplinary procedures up to and including dismissal.
The employer will reserve the right to refer a worker for an assessment by the employer doctor. The cost of the referral will be met by the employer. The Sick Pay Scheme will not cover absences arising from or relating to the following:
(1) Traffic accidents (excluding those incurred during the course of employment)
(2) Substance abuse
(3) Sports injuries
(4) Injuries sustained while working for another employer.
 Sick Pay Scheme Benefits
Workers will be entitled to the following benefits:
After 18 months' service – 3 weeks' benefit
After 30 months' service – 4 weeks' benefit
After 42 months' service – 5 weeks' benefit
Benefit will be €120 euro per rostered week, or pro rata. Workers will retain the Social Welfare payment and it is their responsibility to apply for and collect this payment.
DEATH IN SERVICE BENEFIT
A non-contributory Death in Service Benefit, equal to one year's basic pay is payable after 6 months' service in the employer, and up to the age that State Pension becomes payable to the worker.
The death in service benefit shall apply whether the worker was on duty or not at the time of death.
PERSONAL ATTACK BENEFIT
A non-contributory Personal Attack Benefit will apply, after 6 months' service in the employer, to all workers covered by this Employment Regulation Order, who are attacked in the course of their duty, resulting in an injury.
The amount payable will be as follows: –
After 6 months' service 10 weeks' basic pay, less Social Welfare
After 18 months' service 15 weeks' basic pay, less Social Welfare
After 30 months' service 20 weeks' basic pay, less Social Welfare
After 42 months' service 26 weeks' basic pay, less Social Welfare
An employer shall ensure that appropriate physical and psychological support is available, on request, to any worker who has been subjected to violence because of carrying out his/her duties. (Ref: PSA Standards 28 of 2013 Section 4.6.7)
The sick pay scheme, personal attack benefit and death in service benefit all provide greater reassurance to security operatives should something unforeseen happen which until recent times was not present but it does represent significant additional costs to the employer.
The next part is one that has been a bone of contention for security operatives for a long time and thankfully it has been clarified
MINIMUM SHIFT/DUTY HOURS
When a security worker is called in to carry out a Shift/Duty comprising of less than four hours, this will attract a minimum of four hours' pay
Issues
There are still several issues with the new ERO. The largest of these issues is the fact that the ERO only applies to those security operatives employed by contract security providers. It does not apply to directly employed in house security staff. This of course may affect the decision of a client in whether to bring in a security company or simply hire a directly employed security operative if cost is the only factor. It also presents the risk of directly employed security operatives being exploited by being lesser paid for carrying out the same job and not having the protection of the benefits contained in the ERO should they be injured.
From my perspective, this is unfair to those working as directly employed security operatives. They must undergo the same training and vetting process as those employed by security companies and attract less pay. The WRC would possibly argue that their inclusion in the ERO would be difficult to monitor as their employment is not regulated in the same way as a security provider but I don't see that as a viable excuse. If the National Minimum Wage can be monitored across all companies then surely this could also be.
Some providers will look upon this area as an opportunity to show that contract security providers can bring so much more value to a contract than purely financial cost savings in terms of professionalism and presentation of staff, support services and adaptability to the clients requirements. I believe that its these providers who will prosper in the coming years over those who will bemoan the omission of in-house employees as a reason for lost contracts.
Employer impact
This ERO throws up some major cost headaches for employers. Many companies will have tendered for multi-year contracts with profit margins based on existing pay regulations at the time. The increases in pay over the next 2 years along with the sick pay benefits will not have been factored in to many of these contracts and could leave a major financial risk. Of course, larger providers will say that those who didn't plan for this are at fault themselves as they should have been aware of this but nevertheless some providers will undoubtedly attempt to claim an inability to pay these new rates and benefits.
The employment relationship
The major question thrown up by the ERO is the impact it will have on the employment relationship. Employees will now be given a little extra money and protection in the form of benefits. But for this additional cost to the employer they will expect some extra value one would assume. Or will the security operative simply take the view that they deserve extra money without delivering extra performance? Herzbergers two factor motivational theory would suggest that providing additional pay does not necessarily result in an increase in motivation or an increase in performance. I believe it will be the case that those providers who can use this ERO best as a motivating factor to drive additional performance among employees to will benefit most from it. Those providers who apply it begrudgingly will no doubt demotivate their employees and we know that this definitely won't drive performance.
Opportunity to improve
From an employee perspective, most will say that this increase is the least they deserve for a job they are already doing to the best of their ability. While this is true I'm afraid that this isn't good enough anymore. This increase in tandem with other regulatory efforts introduced recently are steps taken to professionalise the industry and raise its standards for both companies and individuals operating within it. It makes our job safer and better. In return we all have a duty to ensure that we continue to make it even better again. If the state requires employers to step up their game in relation to pay and conditions them then  , the state and the public at large also expect the security industry to step up their game. This isn't an easy task. It means every person in the industry taking personal responsibility for the job they do and taking those little steps to improve their own performance. If this happens the entire industry can take a giant leap forward in professionalism and justify not only these increases but further increase and professional benefits in the future.
As an alternative, we could ignore this and continue to do what we have always done. We know this road will eventually lead to a poorer industry and further exploitation of the industry but it's the easy option.
The full ERO can be read here