Premium
Directory Listings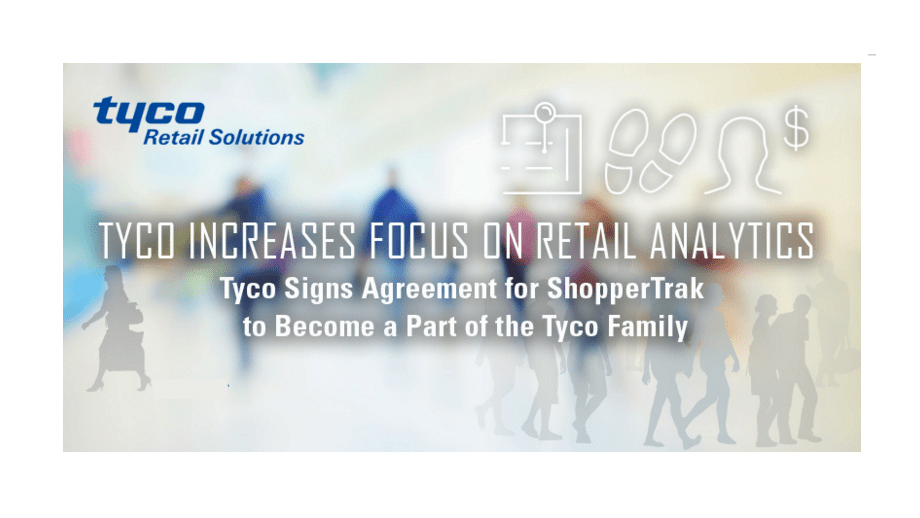 Tyco to Acquire ShopperTrak, a Leading Global Provider of Retail Analytics and Intelligence
January 06, 2016
Tyco International plc have announced that it has reached a definitive agreement to acquire ShopperTrak, a leading global provider of retail consumer behaviour insights and location-based analytics, for approximately $175 million in cash.
Based in Chicago, ShopperTrak provides customer traffic and related intelligence to more than 1,200 retailers in 97 countries. The company's solutions, such as perimeter traffic counting, in-store consumer behaviors analytics and industry benchmarking, enable retailers to improve sales and operational effectiveness.
The addition of ShopperTrak to Tyco's recent acquisition of FootFall, a global provider of retail traffic analytics based in the U.K., will capture data from 35 billion shopper visits annually, providing the retail industry with unprecedented global store traffic insights.
"Tyco is working with the world's leading retailers to meet their omni-channel needs and respond to changing consumer behaviors. The ShopperTrak acquisition will enable us to help retailers effectively improve the shopper's experience, thus enhancing their revenues and profitability," said Girish Rishi, Tyco's Executive Vice President, North America Integrated Solutions & Services and Global Retail Solutions. "The ShopperTrak and Footfall acquisitions will build on our well established inventory visibility and loss prevention solutions for retailers. This is core to Tyco's strategy to leverage our Internet of Things capabilities, capturing and analyzing data to provide actionable insights to help solve customer problems and support them in achieving their broader mission."
ShopperTrak currently generates approximately $75 million of annual revenue. The financial results of this business will be reported within both the North America and Rest of World Integrated Solutions and Services segments. The acquisition is expected to be neutral to earnings in the first 12 months following the completion of the transaction. Excluding purchase accounting from amortization, Tyco expects the transaction to be $0.02 accretive to earnings per share before special items (EPS) over the same period. Tyco's fiscal 2016 EPS guidance for the first quarter and full year remain unchanged.
This transaction, which is subject to customary closing conditions and regulatory approvals, is expected to close in Tyco's fiscal second quarter.